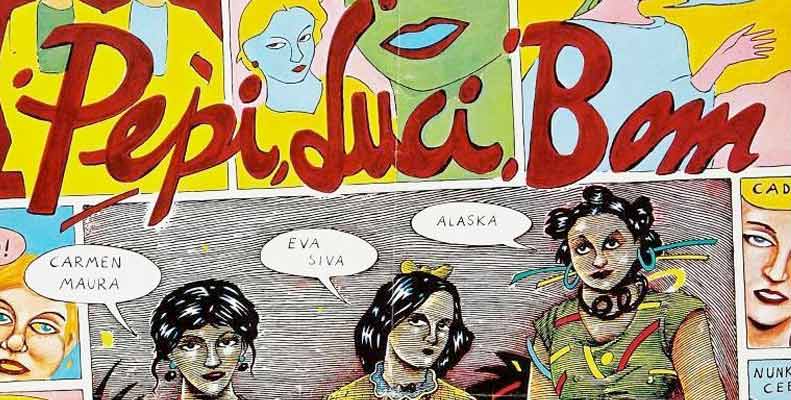 Pepi, Luci, Bom (1980) Directed by Pedro Almodóvar
You need a very peculiar sense of humor to laugh and relish the dirty punk vibe of enfant terrible Pedro Almodovar's first feature film. If this is your thing, then you're in for a treat. Shot on grubby 16mm and cheaply edited, this calamitous low-budget production is better known for its bizarre infamy and emblematic portrayal of La Movida Madrileña than for its narrative or cinematic goals. Luci (Eva Siva) a passionately sadomasochistic housewife, Pepi (Carmen Maura) a creative rebel and Bom (Alaska) a lesbian rock singer, by the simple ordinary coincidences of life form a hedonistic, lustful and insubordinate trio. Urophilia, blowjobs and female emancipation are just some of their favorite practices for these three uninhibited women in post-Franco Spain: times of profuse cultural liberalism and orgasmic exhibition of carnality, postmodernist art and lots of drugs.
The incoherence of the amateurish script exposes a novice director still figuring out his style, but the conspicuously bad taste of its fervently colorful world and the women in it speak for themselves, coexisting with the reality of the time with such anarchic passion that Almodovar's crude direction gives it singular docudrama overtones. It is a cinematic accident that proved to be appropriate for the brazen sociocultural depiction of a period of colossal relevance for Spanish cinema and for the politics of the Spanish nation. Amidst the humorous atrocities, farcical rapes and a sharp apologia for a society without rules, each euphoric and uncontrolled element may seem disgustingly banal and reprehensible, yet the Almodovarian women are vibrant, independent and strong, like the best of this defiant Spanish filmmaker's cinema. Far from being a great film, more a historical piece than cinema per se, but for those who can stomach the tawdry spectacle of mindless comedy and irresolute style, this countercultural opus is unhinged fun.