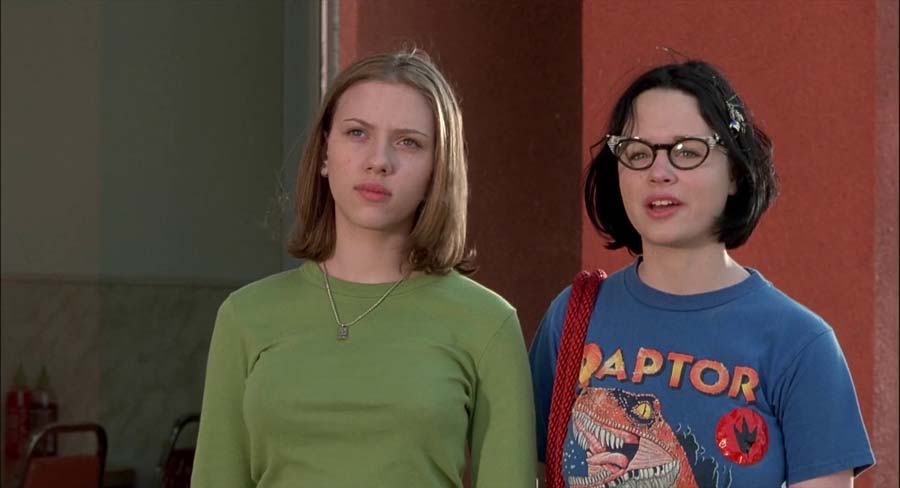 Ghost World (2001) Directed by Terry Zwigoff
It comes as no surprise to me that, after making one of the most bizarre documentaries in the history of modern cinema, Terry Zwigoff's first feature-length fiction film is a mordant, exceptionally eccentric, heterodox satire of new millennium society, seen and narrated from the perspectives of a quirky teenage girl. From the film's phantasmagoric title alone, we can tell that this whimsical journey into the mind of a pessimistic teenage girl will be a strange but ineffably exquisite cinematic experiment in Zwigoff's artful filmmaking. As in his 1995 documentary, the creative process is shared with another peculiar personality, the great American cartoonist Daniel Clowes with whom he co-writes the script of this delightfully dark story based on the comic book of the same name created by Clowes.
Ghost World is a disruptive coming-of-age comedy that resurrects the qualities of the genre and subverts many of the narrative norms popularized in the late 20th and early 21st centuries. Among other things, it is also one of the most profound, yet perpetually acidic, critiques of contemporaneity ever seen in modern cinema. That in itself makes it an interdisciplinary piece of cinema, utilizing a sublime criticism that amalgamates the realms of sociology, psychology and philosophy; and in addition, within its many oddities, one can appreciate a complex youthful mosaic that inquisitively dissects the most neglected themes in the coming-of-age genre.
The film's concept, with its inherent comic book overtones, penetrates the darker side of adolescent turmoil without fear of deriding susceptible subjects. One of Zwigoff's most praiseworthy attributes as a filmmaker is his formidable forthrightness in dealing with lurid situations; or rather in portraying situations intricate in human morality. In my estimation, Zwigoff is a virtuoso intellectual filmmaker. My rationale for calling him as such is his thoughtful, dialectical and poetic approach to his films; no matter how maddening his characters and worlds are, he consistently manages to draw something insightful from his cinematic examination of our contemporary reality. Ghost World may have been his first incursion into fictional cinema, but the configuration of his films is still that of a documentary, at least based on the expression of its streamlined and spontaneous nature, that is what makes me believe that I am in the same raw and veristic frame of his documentaries.
This is a film tinged with subliminal messages. That figurative feature endows Ghost World with a unique empathy in its cinematic ambiance yet in its dramatic depth it offers abstract sentiments and weird mirages that assail our material world. The ethos of Ghost World is inflammatory, seeking guffaws and droll comedy with a serious awareness of our present day and what lies ahead in our generational future. With misanthropic touches and acerbic socio-cultural attacks, Ghost World thrives on a pessimism that ultimately turns out to be optimistic…In a way.
The most delectable thing about experiencing the eccentricities of Ghost World is getting to know its characters and witnessing their bitterly amusing lives. Thora Birch plays the film's petulant soul, the sardonic Enid, in what is arguably the finest performance of her career. Enid's best and only friend, blonde-haired and distinctively delicate Rebecca, is played by Scarlett Johansson. Both have just graduated from high school and instead of thinking about going to college they are more focused on enjoying their freedom by examining the strangest people in town. That's the ridiculous pastime they have, although for them it's an exciting hobby. Their cynicism leads them to perpetrate a cruel prank on the most pathetic guy they find in the newspaper dating ads. The victim of this hoax is a middle-aged man named Seymour, played by Steve Buscemi. At first glance, Seymour is the perfect guy to satisfy Enid and Rebecca's teasing; however, as Enid gets to know Seymour better, she develops an offbeat friendship with him. The development of her relationship with Seymour is grounded in a discernible empathetic rapport between the two, "two ghosts the world ignores and doesn't see."
Rebecca, despite embracing the same sarcastic worldview as Enid, is conscientious and emotionally intelligent. Despite her unwillingness to grow up, she at least tries, unlike Enid who is simply inflexible in her negative perception of things. Like a comic book, Zwigoff frames Enid and Rebecca as two parallel worlds colliding, two vignettes that want to be as united as they are fragmented. As the gradual estrangement of the two best friends becomes apparent, the narrative unleashes a series of meditative gimmicks to poeticize youthful alienation. Enid with her stubborn personality, enters a state of dangerous gloom, where suicidal allusions are articulated with subtle poignancy and frivolous wit; clearly, the film here reveals its most potent and solemn substance.
There is nothing Enid likes about modern popular culture, nor does she respect contemporary society, it is as if she was born in the wrong generation. The expressions of disgust and caustic contempt she displays against the modern design of today force her to be a misunderstood "creature," a teenager who needs to escape from this system but cannot. The razor-sharp script makes visible how Enid's wry cynicism is what shapes her personality; it is what makes her endearingly irritating. She mocks contemporary art and satirizes convention, yet there comes a point where we realize that her outlook on life, and her nihilistic philosophy, slowly consumes her to the extent that it leaves her truly alone. For obvious reasons, the plot gives a superlative priority to Enid's relationship with an adult, mainly because it evokes Enid's feeling for life, together with an older man she can feel closer to what she values so much culturally. It may be that this is formulating a kind of apologia for all past times and all outdated values, though this is just a conjecture of mine.
The 21st century is moving fast, at an exhausting and monotonous pace, and Enid is well aware of it. I would not want to see the richness of Ghost World as simply a rabid harangue against the intellectual, artistic and cultural decadence of the new century, nonetheless its idiosyncratic and ironic canvas makes me suspect that we are indeed in front of one of the sharpest and most striking critiques of contemporary art ever made. Its subliminal versatility in every complex space of this wistful, witty and dark story, encourages consciousness within the audience and its relevant role in art; it condemns the modern audience for trivializing good art and glorifying bad art, but at the same time believes, and has high hopes, that this frivolity can change. Enid is that bohemian, masterfully critical thinker that the filmmakers of Ghost World surely wish to resurrect in the crumbling art scene of the 21st century.