Celluloid Dimension's Best Films of The Year 2022
Summarizing the best of the best that cinema has seen this year is just as complicated as doing so in previous years. But here we are, and although I find the subjectivity of such lists more of an obligation than a pleasure, in the end they can provide insightful perspectives and comparisons to other lists of the year's greatest films. Just to clarify: The films that make up my list are films released in the United States in the year 2022.
8. Top Gun: Maverick 
It is difficult to say with complete veracity that this is the finest blockbuster film of the year, that is debatable. What should remain indisputable, however, is its great ability to entertain with a profuse enthusiasm that I find reminiscent of the escapist cinema of Hollywood's golden age. Tom Cruise overtly leaves us with a statement that no other pop-corn film of 2022 has managed to articulate with such cinematic zeal, and that is to remind us why we go to the movies. Read the Review here 
7. X
Part homage, part slasher, part softcore and part satire. A succulent mélange that aesthetically transports us to the sleaze of 70's exploitative narratives. Easily my favorite horror film of 2022, and equally one of the bloodiest gross-out flicks I've seen this year. Though specifically, the major reason it's in this top list is the profound intellectual elicitation, something I never thought I'd witness in a contemporary horror film. X amalgamates the sexual philosophy of the 70's with the sexual politics of modern society as an antagonist, and as an intriguing anachronism. And well, also the fact that it features a powerful performance by Mia Goth justifies perfectly well its place in this list of the best films of the year. Read the Review here
6. Flux Gourmet
I'll put it this simply, this bizarre, ambiguous and deliberately provocative film has the most radical form of storytelling I've seen in a film this year. It works as an iterative rhyme, where the cyclical and competitive lives of the characters become a grueling and progressively delirious dramedy. It would be an understatement to call it quirky, its buffet of culinary sounds, quaint performances and discussions of flatulence make it a quintessential oddball product. Peter Strickland's portentous direction makes these quirks uniformly poetic. A film that has a plethora of fascinating things to tell us about art and exploitation cinema; to what extent can a persuasive provocation be considered art? Read the Review here
5. Pleasure
One of the most thought-provoking film debuts and without a doubt my favorite film of the year made by a female filmmaker. Swedish director Ninja Thyberg ventures into dissecting the behind the scenes of hardcore porn. The result is unequivocally the rawest portrait of the porn industry ever put on film. Some say it's a feminist message, others say it's a frivolous take on the porn world. For me it is more than that. Pleasure unveils what lies behind the deceptive sexual glamour of those sex videos that get millions of views every day, but to do so, Ninja Thyberg builds a whole ingenious and realistic plan, from not being biased against the patriarchy that dominates this industry to not judging the women who participate in these lustful productions. An exercise in empathy that lays bare the dangers of sexual vulnerability, filmed with unvarnished intensity. It is an uncomfortable experience, perhaps one of those films that should only be seen once and it will be enough to have absorbed all its power. More than a terrifying foray into the modus vivendi of the multi-billion dollar porn industry, it is a film that questions the nature of the cinematic apparatus at its most pernicious. Read the Review here
4. The Northman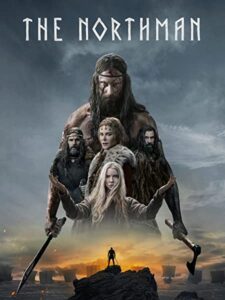 Robert Eggers is one of the most proficient American auteurs working in the medium. And The Northman proves it with his inimitable talent for giving life and lyricism to Scandinavian mythos in what is arguably the most ambitious film of his career. Inevitably tragic and contemplative, what this film narrates with its mythological passages is a fundamentally classical work that manages to convey the poetry of Nordic folklore with a stentorian force and rhythm that I find irresistible. The epic narrative structure may be overwhelmingly slow for some, but for those who understand the primal instinct of its legendary composition it will be a supreme experience. As is customary in narrative cinema, revenge stories can be very rhetorical and predictable, in The Northman vengeance is just the instrument for mayhem, here no one satisfies their revenge, everyone loses in some way or another. Eggers co-writes the screenplay with Icelandic intellectual and poet Sigurjón Birgir Sigurðsson, thanks to the latter, the plot seems to follow an order guided by tradition rather than narrative, making the experience more like a tour through the wild customs of the Vikings from a Christian point of view rather than a film guided by a continuous and entertaining three-act structure. And as a bonus, it is filmed with beautiful compositional geometry. Review will be posted very soon.
3. The Fabelmans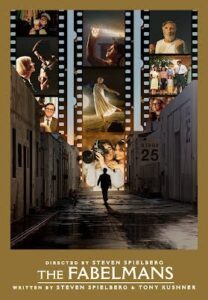 A warm and comforting embrace. That is what one feels when watching the most intimate film in the filmography of America's most beloved director. The Fabelmans is many things in one, the homogeneity of its inspiring introspection takes us into the critical moments in the life of a Jewish family that shares, if not all, the dynamics of an autobiography. Sammy the main character is interchangeable with Steven Spielberg, a story so sublime that it resonates with the themes of cinema in an unforgettable way. What impact can a film have on our lives? The Fabelmans takes it upon itself to answer that very question. If there is one film that deserves to be called an essential piece of 21st century cinema it is this one. Read the Review here
2. Vortex
The controversy surrounding Gaspar Noé's films is often discussed more than his films themselves. Perhaps that's why this director's filmography is often considered one of the most divisive among audiences. You either love him or you hate him. Yet, that discussion changes drastically and becomes more philosophical and less controversial when Vortex is the film in question. Vortex is the most severe and gut-wrenching film I've seen this year, as well as being the most mature film Noé has made. It seems to be a deeply personal exploration through old age and ultimately death; what Vortex is capable of enunciating with its unromantic look at the last stage of life is an aggressive collection of disturbing and frightening sensations that by its intrinsic sincerity produces an eye-opening effect. As you would expect from someone like Noé, the denouement leaves you devastated, depressed and even slightly nihilistic, however when you compare it to reality, as harsh as it may be, it turns out to be correct…there is nothing romantic about disappearing from this world, it is a life stage that must be accepted and respected for what it is. In addition to being a formidable masterpiece about death, it is replete with curious cinematic setups that imbue its downbeat imagery with meaning, which also make it a masterful piece of cinema.  Read the Review here
1. Benediction
There is no contemporary film I have seen this year that has shaken me like this melancholic opus by the great Terence Davies. It works on such an emotional level that its reverberating effects encapsulate with exquisite formal density all of Davies' concerns in a compact study of the inherent injustices, practically imposed as doctrines, in our society, and how they affect our identity, values and principles. Davies evokes with enigmatic patience his deepest sorrows through the life of the famous British poet Siegfried Sassoon; with complex temporal juxtapositions and superlative astuteness the sensibilities of Davies' body of work are present here with triumphant poetry, absolute cinema. It is a ruthless and heartbreakingly painful film to watch, but it feels like a courageous necessity on Davies' part. Benediction knows the thesis of cinema so well to the point of reinventing its language with Davies' idiosyncratic complexities in an ending that so far never ceases to haunt me. Read the Review here