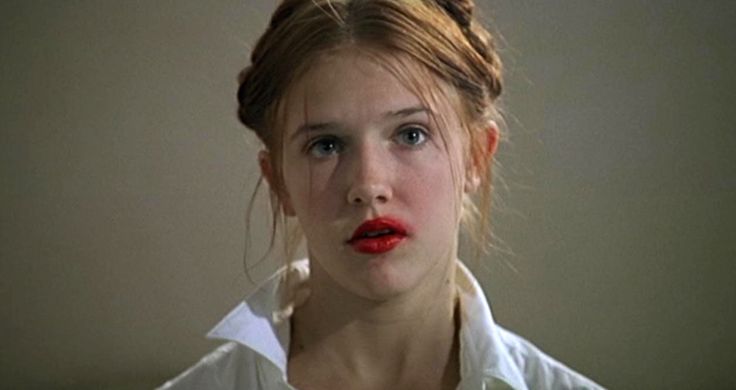 Lolita (1997) Directed by Adrian Lyne
When you have a film that is driven by sensory evocations, ethical subjectivism and ambivalent impressionism dealing with one of the most controversial stories of all time, it can easily and unintentionally lend itself to judgmental and overbearing censure by inane moralists. What this contentious and overwhelmingly affecting 1997 film, based on the profound 1955 literary work written by Vladimir Nabokov, teaches us, however, is that one can articulate the susceptible and overtly incorrect themes of this intriguing novel in the medium as long as the dramatic approach is the right one. It possibly sounds very ambiguous to mention something as such, as it depends a lot on what is right for you and wrong for others; though the general consensus is universal, what the troubled illicit romance of this story portrays is uncomfortable, reprehensible and disturbing, yet I have the perception that that core narrative, which is the most pervasive on its surface, is only the primary generator of the major theme that makes up the story. There are many ways to define that "major" theme, and the simplest of these ways I think would be to say that it is that of the tragedy of life.
Lolita, directed by Adrian Lyne and written by Stephen Schiff, is the second film adaptation of Nabokov's novel, and unlike the first adaptation that took place in 1962, a film directed by Stanley Kubrick, this robust reinterpretation is much more intimate in human pathos. From my perspective, what distinguishes the two entrancing adaptations is that one grounds the experience as an intellectual process and the other as an emotional one. In effect, this version of Lolita handles the maelstrom of feelings better than the first version, although the latter has a couple of elements that sadly this 1997 version discards, and that is that Kubrick's film has a scrupulous and subtle narrative development, and the psychosexual drama is gripping and compulsive. Adrian Lyne, unlike Kubrick, opts to be unabashedly lewd and succumbs to acting hyperbole whenever he can. With these arguments I may be unconsciously implying that I prefer the 1962 version to this one, but I don't, because I consciously consider that the 90's version has infinite more tantalizing intricacies that don't necessarily surpass Kubrick's, but it does give me many more complexities to absorb, ergo a much richer film to analyze.
That overabundance of superior detail is rationalized precisely in that theme I mentioned earlier at the end of the first paragraph. Adrian Lyne's sometimes perfunctory and indulgent direction may lead us to believe that he only cares about the lustfully sensationalist aspects of the story but if we look with more dedication and precision at the subtexts and hidden mysteries beyond the showy carnality, you can find, and with much astonishment, a whole new dimension, not sexual at all. There comes a point in the narrative of Lolita that it stops being the story of "a solitary perverted man with an untreatable melancholy preys on the innocence of a teenage girl" to being the story of "a tragic epiphany that an immature man has when he soothes his past wounds by destroying the innocence of a teenage girl". The difference is drastic, isn't it? Although the semantics of both sentences share meanings, the context is radically different, and as a result of that contextual nuance alone it changes the way you judge this movie.
The highly controversial story takes place in 1947 and is about a middle-aged European English literature professor named Humbert Humbert, played by an unmistakably Jeremy Irons, who moves to the United States to teach at a university. The abstruse and educated Humbert rents a room in a comfortable, if rambunctious, house where a widowed woman, played by a loquacious Melanie Griffith, lives with her childish but suggestive and playful teenage daughter, Dolores, audaciously played by Dominique Swain. Humbert suddenly becomes a whole new man as he sets his mystified eyes on Dolores' pristine physique and complexion, his emotions become vigorous like those of a hormonally developing adolescent and his passions reminiscent of a beautiful old memory in his youthful life. Humbert's life is transformed into an illusion where even perversity becomes a sublimation of his sorrows, thus falling in love and manipulating 'Lolita' to be his romantic complement in his disjointed life. Committing madness for love is the classic cliché of romances, but here nothing is romantic from the conservative interpretation of idealism that we all know and accept, Humbert makes irreversible decisions that lead him to a psychological obnubilation and an uncontrollable, addictive and dangerous consummation of his desires making him descend into delirium and the condemnation of an impossible love.
What this production manages to show with this story is elementary, yet what it internalizes within it is exceptionally powerful. Jeremy Irons' moving performance professes an empathy that to the tangible world would be apathy; Irons finds in his character an absolute human truth, and that is that loneliness is terrifying. The film is chronicled in Humbert's point of view, so much of what we observe is inaccurate. The impressionistic reactivity of sentiments and the eventual consequences are contoured to Humbert's satisfaction; this single-minded, individualistic view elucidates perfectly well the degree of immaturity this adult character possesses. At no time does he meditate on the irreparable damage he is inflicting on the adolescent character, because as his suave and caramelized narration symbolizes, Humbert enters into a harmful state of sexual vehemence and nostalgic infatuation in which he only puts his nostalgic pleasures as paramount without measuring the negative ramifications they may have on his and Dolores' psychology.
If the film is misinterpreted it is not the fault of the audience, nor is it the fault of the typical prudes, it is entirely the fault of the cumbersome amount of indecision that can be noted in this production. When I mention this production as being solely responsible for the misinterpretations, I am referring specifically to the obvious misunderstanding it has in separating sexual provocation from dramatic depth. Adrian Lyne offers stereotypical excesses in his style that are indicative of a filmmaker with a predisposition for the superfluous. He establishes a smorgasbord of nonsensical camera angles that lamentably overshadow the story and the dramatic rigor of the performances. Too contradictory in execution to the poetics of the tragic events, it is filmed as a flawed 1990s thriller, not as a drama that seeks thoughtful austerity with a thorough cinematic design. Though there is one irrefutable thing in its audiovisual totality that persuades with unparalleled power and emotion: the heavenly soundtrack courtesy of the legendary Ennio Morricone, one of the most delicate yet soulfully resonant musical orchestrations of his career. The role of music here is not only atmospheric but also adds to the illusory and romantic essence in which the protagonist lives, far from reality and lost in his relationship with a teenage girl, a painkiller to endure the hopelessness of heartbreaking events in his past.
The general idea of Lolita can be seen alternatively to its heterodox romanticism as the analogous version of the Oedipus complex, in its female version, the Elektra complex. As a drama with psychosexual overtones, it is a work prone to be segmented in multiple shapes. Many of these forms will surely be one more polemical than the other, after all it is still the tragedy of a man and his relationship with a 14-year-old girl, however one of the great merits of this adaptation is that it has the ability to shock, baffle and exacerbate contemporary sexual politics as very few films have done with a descriptive illicit relationship. The degree of complexity of the novel may make it impossible for it to ever be adapted without interpretive errors on the big screen, but I sincerely believe that Adrian Lyne's Lolita, when viewed without regard to literary shortcomings, is a long but poignant story about a man's inability to accept his impending solitude. All done like a cursed poetry, but nonetheless beautiful, if this isn't cinema then I don't know what is. A "faulty perfection."